The Republican Public Association of "Bodybuilding and Fitness Federation" is honored to invite you to participate in the 4th Kazakhstan Bodybuilding and Fitness Open Championship to be held in Almaty, on April 26-28, 2013. The Championship will be held under the auspices of WBPF and ABBF.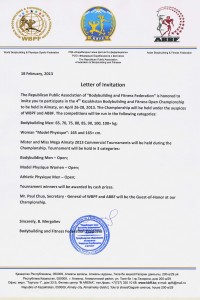 The competitions will be run in the following categories:
Bodybuilding Men: 65, 70, 75, 80, 85, 90,100,100+ kg;
Woman "Model Physique": 165 and 165+ cm.
Mister and Miss Mega Almaty 2013 Commercial Tournaments will be held during the Championship.
Tournament will be hold in 3 categories:
Bodybuilding Men – Open;
Model Physique Women – Open;
Athletic Physique Men – Open;
Tournament winners will be awarded by cash prizes.
Mr. Paul Chua, Secretary – General of WBPF and ABBF will be the Guest-of-Honor at our Championship.
More information: www.kbbf.kz